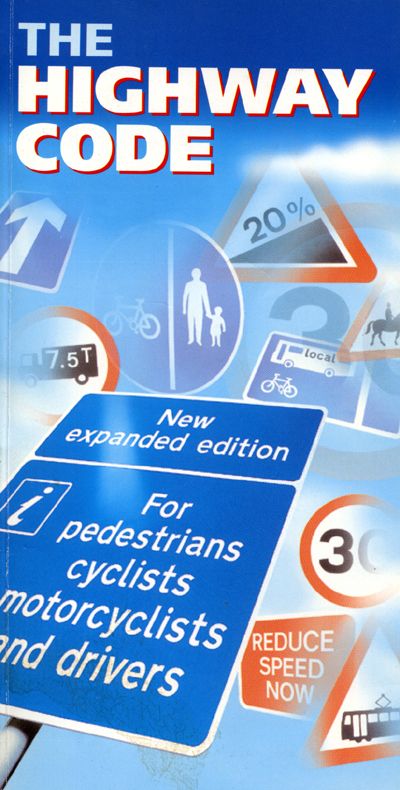 THE HIGHWAY CODE

Book Review (and a few observations) by Mike Fishwick
When did you last read the Highway Code? In all too many cases the answer would be 'Before I passed my test', but this is one publication we should all read from time to time, in an attempt to practice what it preaches. As someone once stated, if we all followed the precepts of the Highway Code life would be a lot safer – and in some cases longer!
The latest edition of this handy little booklet would make good reading for those who regularly ignore the niceties of motoring life, such as overtaking through the wavy lines on the approach to pedestrian crossings, or continuing to cross on amber, or even red traffic lights. The wavy lines around pedestrian crossings, incidentally, are not included in the colour section dealing with road markings, even though their use is described and illustrated fully in other places.
The section on Lane Discipline has been revised a little, and in addition to the usual requirement (all so often ignored) not pull out in front of overtaking traffic, advice is now included that the outer lanes of dual carriageways with two or three lanes should only be used for overtaking, rather than 'cruising' in the centre or outer lane; this advice is repeated in relation to motorway travel. That this should be deemed necessary is a sad reflection on today's driving standards, but perhaps such direct advice will be finally absorbed by a new generation of riders and drivers.
It is urged that overtaking should be done 'quickly' – an excellent idea – but it is a pity that the Department of Transport did not see fit to include clear advice, with regard to dual carriageways, that one should not remain in the outside lane, so causing a queue of faster traffic to build up behind one, just because one intends to overtake a vehicle some two miles down the road.
Although it is stated that traffic joining a dual carriageway or motorway must give way to those already on it, it is a pity that the authors do not strongly advise against the now-popular practice of barging onto the road in the hope that others will give way to you; this has produced a reaction whereby many drivers will now automatically move to the outer lane before a slip road, regardless of faster traffic about to overtake them, which is one of the most dangerous manoeuvres possible.
This slim, pocket-sized, publication is not just about what one should not do – after the excellent colour section on road signs and markings etc is a concise description of the 'Theory of Safe and Responsible Driving' which should be of particular interest to all new riders and drivers. It is unfortunate, however, that very few existing road users will bother to read the Highway Code, much less try to follow it, unless they have an interest in their riding or driving, while those who follow no rules but their own will continue to plod doggedly along the centre lane of motorways, overtake on pedestrian crossings, pass amber traffic lights, and obstruct overtaking vehicles.
So you think you are perfect, and know it all? I hope not, as we all have bad habits which should be recognised, and also need to keep up to date on new road signs and regulations which affect us. At a mere 99 pence this book is a bargain – buy it, read it, absorb it, and above all else, practice it.
(The Highway Code – HMSO, 99p. ISBN 0 11 551843 6)